Online donation
Today and every day our service is available 24 hours. Your support given to The Samaritans helps add tomorrows every day.
The majority of our funding comes from caring individuals, who, like our unpaid volunteers operating our 24/7 hotline service, are willing to offer help and support to total strangers who are experiencing despair, distress or suicidal feelings.
A quick, secure and convenient way to give is donate online. If you'd like to help us continue this vital service, please choose from these two options: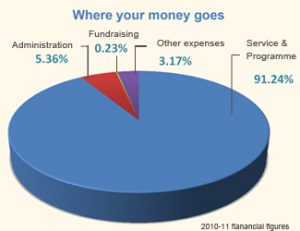 When you choose monthly donation, you'll support The Samaritans with a monthly gift of the amount you select. Your credit card will be billed each month until you choose to cancel.
▶ To do this, click the DONATE NOW button on the top right corner of the page. ◥
Whatever way you choose to donate, your gifts can help in the following ways:
HK$38 can help support one call answered by a Samaritan volunteer.
HK$462 can help us recruit and maintain the service of a volunteer for a year.
HK$2,080 can help keep our service running 24 hours a day, 365 days a year.
▶ Please click on the DONATE NOW button on the top right corner ◥ or download and return this form to us or email [email protected] for inquiries.